Must-Have Window Covering Solutions for Businesses
McFeely Window Fashions
Whether you are looking for window coverings for office space, a school or institution, multi-family housing, or a tenant fit-out, you need to consider the following:
How many windows are in the room or building? Are they all the same shape and size?
Do you require full privacy or partial privacy?
Are there hard-to-reach windows or skylights?
Do you need to reduce glare for TV or computer monitors?
What's important—beauty or function—or both?
McFeely Window Fashions offers a variety of commercial window treatments–including national and local manufacturers, motorized solutions, and energy-efficient products–all designed to provide function and to be aesthetically pleasing.  Here are the top three, must-have window covering solutions for businesses:
Motorized Window Coverings
Technology is the wave of the future.  Now, window coverings can be controlled by remote controls or wall switches.  The convenience of remotely adjusting blinds and shades is highly desired by commercial businesses everywhere.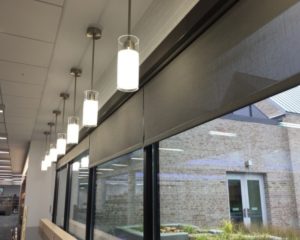 Motorized window coverings for businesses are desirable for many reasons:
Safety – Motorized window coverings eliminate the dangers of dangling cords, reducing potential hazards for children and pets.
Aesthetics – Motorization allows you to keep a large bank of window shades in perfect alignment for a cohesive look, with no unsightly pull cords.
Convenience – Remote controlled shades simplify operation, no tugging pull cords up and down to operate; it's effortless to access hard-to-reach windows.
Solar Shades
Solar Shades are one of the most versatile window coverings on the market.  Their primary purpose is to serve as a shield against solar heat gain and create a more comfortable environment for the interior space.   These shades reduce the use of expensive air conditioning and help keep energy costs down. They are modern by design, naturally diffuse sunlight and reduce glare.  Solar shades come in a diverse selection of colors, weaves, and pattern options to compliment any style building and business.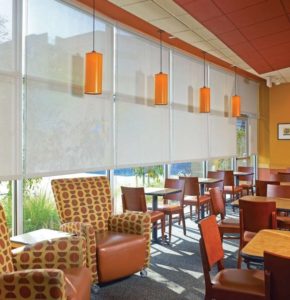 Why you should consider energy-efficient solutions for your business:
Solar shades are extremely durable, making them a perfect window covering solution for most commercial applications — restaurants, office buildings, retail chains, and schools.
Solar window shades create just the right natural light in any room, block out harmful UV rays, and keep areas cooler.
Solar shades come in various styles and levels of openness to allow you to choose just the right amount of natural light and view you desire.
They are an effective solution for covering large windows, as most fabrics are available in extra wide widths.
Solar shades can be easily motorized for additional privacy and safety.
Custom-Branded Graphic Shades
Custom-branded graphic roller shades are useful because they give you the ability to print an image, logo, or specific messaging, directly onto a window shade that consumers can see from the outside to draw them into your place of business.  From the inside view, they provide a fresh, clean look and block out harmful UV rays, excessive heat and glare.  Their dual usage allows you to combine style and functionality with your latest product or promotion.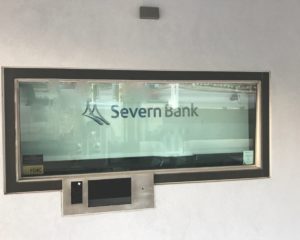 Graphic shades designed for commercial use offer many benefits:
Graphic roller shades save on advertising costs and energy expenses because they block solar heat gain and double as street-view advertising.
Not only will your company spend less money on signage, it will also save on heating and cooling expenses.
Graphic shades can provide a one-of-a-kind shade that no one else has, and promote a specific theme or atmosphere for your school or business.
Graphic shades can be used to build a stronger brand identity for restaurants, healthcare facilities, banks and institutions, schools, community centers, and more.
Contact McFeely Window Fashions for a competitive quote today. Call 410.987.2300.