Motorized Window Coverings in Today's Business Environments
McFeely Window Fashions
Window treatments are no longer an excess luxury; they are extremely important and critical to aesthetics and functionality in any type of business environment.  Whether you are talking about a bank, retail store, restaurant, office building, or healthcare facility, there needs to be some type of barrier to protect customers and employees from the hot and sometimes dangerous rays of the sun.  With so many different options available to business owners, it can sometimes be overwhelming to select the perfect solution for different business applications.  With advanced motorized technologies, what would have been considered "cutting edge" ten years ago is now commonplace.
Motorized Roller/Solar Shades are gaining popularity because of their affordability, accessibility, energy efficiency, convenience and stylish good looks.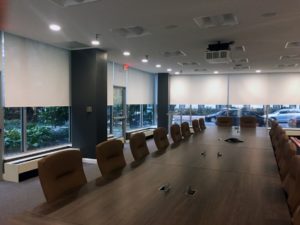 Today Motorized Roller Shades are used all over the world in offices, atriums, hospital rooms, conference rooms, classrooms, banks and more.  They help to quickly and efficiently provide shade for presentations, meetings, classes, and patients.  With push-button convenience, Motorized Roller Shades provide light-filtering or blackout protection from sunlight in multiple windows or challenging hard-to-reach windows.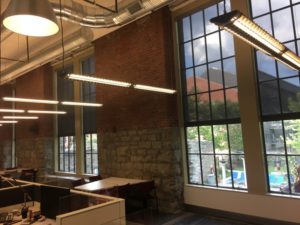 Motorized Roller Shades offer the following benefits:
Energy Efficiency––Businesses with motorized solar shades save in energy costs.
Automation––Motorization allows companies the freedom to pre-program not only the appropriate covering times, but also the degree of window shading (blackout, 1%, 5%, 10%).
UV Protection––Solar shades lowered at the appropriate automated times means businesses protect valuable possessions like artwork, fabrics, rugs, and upholstery from fading or decay.
Security––With shades that adjust themselves automatically, companies no longer have to rely on staff. Consistency is guaranteed.
Aesthetics––Motorized blinds ensure perfect evenness in length, with no unsightly cords.
McFeely Window Fashions will help you plan, measure, execute and install the perfect window covering solutions—on time and on budget.
Give McFeely Window Fashions a call for more information or a competitive quote.
410.987.2300