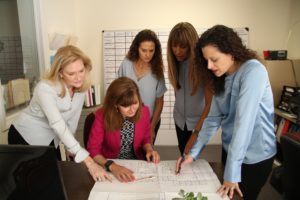 McFeely Window Fashions, a certified woman-owned business in Anne Arundel County, specializes in providing window coverings for commercial spaces throughout Maryland, Virginia, and Washington D.C. Whether you are considering blinds and shades for new construction or remodeling your existing commercial space, we offer our expertise in design, fabrication, and installation of commercial window treatments.
As a small business we make it our priority to provide great service at every stage of the project. From specification to installation, we work with you to manage projects timely and efficiently. We have special contract pricing which we can offer exclusively for our commercial partners and give you the best price in today's market! We know that in Division 12, timing is everything. We use a local manufacturer to ensure the fastest turnaround time from the moment you place your order, to the installation of your blinds & shades.
The Severn School
Gillmor Elementary School
Northern Virginia Community College
William Baer Elementary School
MD School for the Deaf
Azumi Restaurant
Sibley Hospital
Infectious Disease Associates
Westminster Readiness Center
The Lenore Apartments
George Mason University
Thomas Johnson Elementary
Howard County Library
Arlington County Library
Brightview Assisted Living
North Street Senior Apartments
Plummer Elementary School
Association of Maryland Pilots
Montgomery County Council Office Building
Davita Dialysis Center
I.D.F. Dialysis Center
Park Tavern Restaurant
Annapolis Internal Medicine
Green Street Academy
District Chophouse Restaurant
CSX Engineering Headquarters
Glen Arden Public Transit
Laramore & Scarlett Law Firm
Johns Hopkins University – Carey Business School
The Federal Reserve
Maryland School for the Blind
University of Maryland Medical Center
World Trade Center – Baltimore
B-More Kitchens
Stanley Black & Decker
BG&E
Maryland City Elementary School
SunTrust Bank
Certifications 
MBE: 12-377
WBE: 12-358310
SB: 12-10633
SWaM MBE: 708012
Sign up to see what projects we're working on and how we can help you with your next commercial bid or contract.