5 Reasons to Love Roller / Solar Shades
McFeely Window Fashions
Windows come in all shapes and sizes—they each offer a different set of challenges.  Some have gorgeous moldings that you don't want to cover.   Some are the only source of light for an entire room.  Some are in areas where sunlight is needed, but you also need privacy.  Homeowners are now discovering the perks of roller shades.  Here are five reasons why we love Roller/Solar Shades, and why they might be great fit for you, too.
Reason #1:   Minimize Impact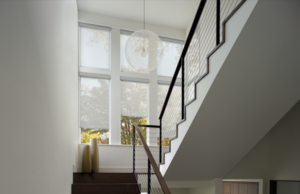 Beautiful millwork and architectural details can be challenging because you should be able to highlight them, not cover them up!  When it comes to window moldings and millwork that already make a statement, Roller/Solar Shades are an excellent option.  Style details can be added with a great cornice or edge detail, but since they can easily mount inside the window frame, they'll allow your window's style to come through.
Reason #2:  Stay cool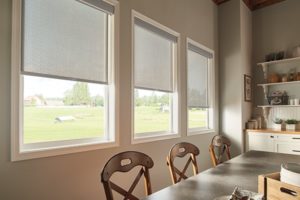 Roller/Solar Shades are a super simple way to help keep a room cool by filtering sunlight.  Their primary purpose is to serve as a shield against solar heat gain and create a more comfortable environment for the interior space.   These shades reduce the use of expensive air conditioning and help keep energy costs down.  Roller/Solar shades come in a diverse selection of colors, weaves, and pattern options to compliment any style home.
Reason #3:  Layering!
One of the quintessential elements to great design is layering.  Roller/Solar Shades make the most sense when you're torn between style and function.  Create the look you love with bold drapes—like in the photo above—but don't miss out on the functionality.  Just layer a simple and neutral roller shade beneath your favorite pattern for optimum light control and privacy.
Reason #4:   Don't block the view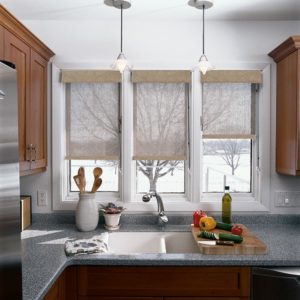 The worst thing about trying to enjoy your gorgeous view is the heat and glare of the sun through your windows.  Whether you're in a high rise overlooking the city or a beachfront bungalow, Roller/Solar Shades, with a variety of openness levels, help maintain your view while blocking UV rays and glare.
Reason #5:  Privacy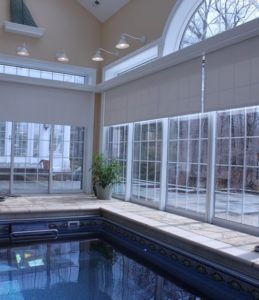 Windows in the bathroom are great.  Who doesn't love putting makeup on with natural light?  However, windows do cause some privacy issues. Roller/Solar Shades to the rescue.  They can easily raise when you want natural light and lower to provide privacy from your neighbors.  Did we mention they can be cordless or motorized?
By this point, you're wondering why you didn't consider them before, right?  Do you have a room in your house that could benefit from Roller/Solar Shades?