You've just spent the last 3 months remodeling the kitchen of your dreams. The countertops are gleaming; the cabinets are beautiful and functional, and the appliances are state-of-the-art.  Now you need to give your windows a polished look to match!  Bright white cabinets and stainless appliances are trending today. Window treatments are a great way to make a statement against a blank slate.
Here are some suggestions for top trending styles for your kitchen windows that'll make your neighbors say, "Where did you get those?"
If you have an all-white or mostly neutral kitchen, adding a patterned Roman Shade can really make your windows pop.  Plus, Roman Shades bring softness, texture, color, and charm to the straight lines of cabinetry in today's kitchen.
Roman Shades with a graphic fabric add drama next to white cabinetry
If you want your kitchen windows to stand out, but your style is more eclectic, try Woven Wood Shades. Like printed Roman Shades, Woven Wood Shades give your kitchen windows texture and visual interest.
An airy, woven material gives windows character without stealing the show
If you're not looking to make a big design statement, but want your windows to look polished, you can't go wrong with Wood Blinds or Faux Wood Blinds.  This classic style will never look outdated, and Faux Wood Blinds are engineered to withstand moisture and kitchen areas in the "splash zone."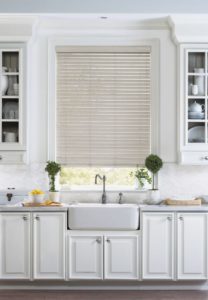 Wood or Faux Wood Blinds filter the light when needed, yet open up for a clear view
Get the best of style and function with Faux Wood Shutters for the kitchen. The composite material and wide slats can be wiped clean anytime, and the classic style will give your windows an upscale look.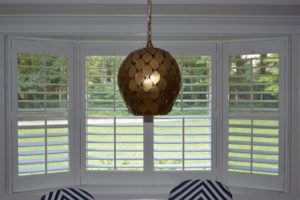 Shutters are also a great choice for homes with small children because they're completely cordless
Clean and sophisticated, Roller or Solar Shades are growing in popularity and are a great kitchen window treatment option.  These shades are also great for smaller windows because they minimally cover the windows and trim.
Roller or Solar Shades come in endless colors, textures, and light-filtering opaqueness
 Let McFeely Window Fashions help you plan, measure, and execute the perfect window covering solutions for your kitchen, whether newly remodeled or to refresh an existing space.
To learn more about these and other window treatments,
Please call McFeely Window Fashions at 410.987.2300 or visit the website click here.