WINDOW TREATMENTS FOR CHALLENGING WINDOWS
Where to mount the rods?
While beautiful, these windows present an especially challenging situation—tall windows, an arch and a vaulted ceiling. These issues have been expertly addressed with a combination of woven wood shades and drapery panels. Notice where the rods are mounted. The drapes on the side windows were hung first and the back feature wall draperies were hung in line with those. Super smart solution!
Different Sized Windows?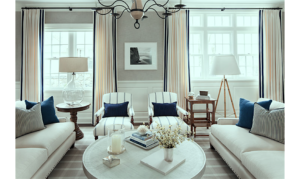 These draperies offer clean lines and pack a punch with the contrasting navy double ribbon detail. You almost don't realize the windows are two completely different sizes. Because the rods are mounted on the crown molding at the same level, this brings balance and consistency to what could be troublesome windows.
Short Basement Windows?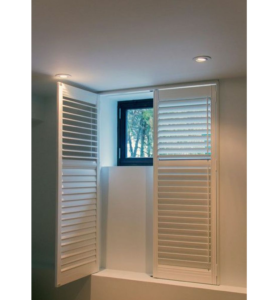 Short basement windows are always a challenge, but they are brilliantly camouflaged by installing plantation shutters over them. Way to think outside the box!
Two-Story Windows?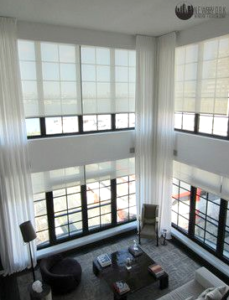 You have many options when designing for two-story windows. Here is an example of light and airy white sheer panels mounted just below the ceiling, paired with motorized solar shades. The draperies add softness to the room and frame tall windows, and the motorized shades allow light to be filtered with the push of a button. It's truly the best of both worlds—beautiful and functional.

8379 Jumpers Hole Road – Millersville, MD 21108 – 410.987.2300 – www.mcfeelywindowfashions.com