Neutral Drapery Panels
Sheer neutral drapery panels add just the right amount of texture and softness to a space, while maintaining continuity in tone. With light walls, neutral fabrics in shades of white, cream and tone-on-tone can blend in with the colors around them while still providing light blockage and privacy if needed with the addition of linings.
When creating your color scheme, consider the undertones you're using and try to stick to one color family. Some neutrals have gray undertones (best for cooler palettes) while others have brown tones (warmer palettes). Hang swatches on your windows or place them up against other pieces in the room to see if the colors mesh well together. If the rest of the room is simple, patterned drapery panels can add interest to walls and a beautiful frame to large windows or sliding doors.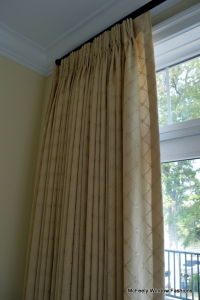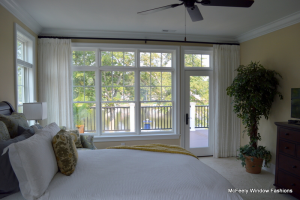 Tone on Tone Neutral Drapery Panels
For colors that match almost any decor in a wide variety of styling options, you can't go wrong with neutrals. Neutral fabrics in white, cream and light gray can be a solid, stripe or tone-on-tone. Choose fabric one or two shades lighter or darker than your wall color. Even if you love color, neutral drapery fabrics can act as a timeless backdrop for colorful art, furniture, pillows, and rugs. Light and bright neutrals are wonderful at helping colors pop, fading into the background and letting accent pieces shine. They can also balance out brighter paint colors on the walls.
Clean, neutral window treatments can withstand the test of time and stay in a room through many decor changes. White, crisp and clean – these drapery panels help highlight the beautiful trim work, yet do not compete with the gorgeous water view.
Robert Allen – Neutral Fabric Options
Whether your style leans toward traditional or contemporary, beachy or industrial, window treatment can adapt to fit your aesthetic. McFeely Window Fashions offers thousands of fabric options from which to choose. Draperies can work in almost any room of your home from–bedrooms to dining rooms, kitchens to dens. We can help you find draperies to cover even difficult windows.
Our expert staff will help you find the perfect window treatments for your home. Give us a call to get started.