Plantation Shutters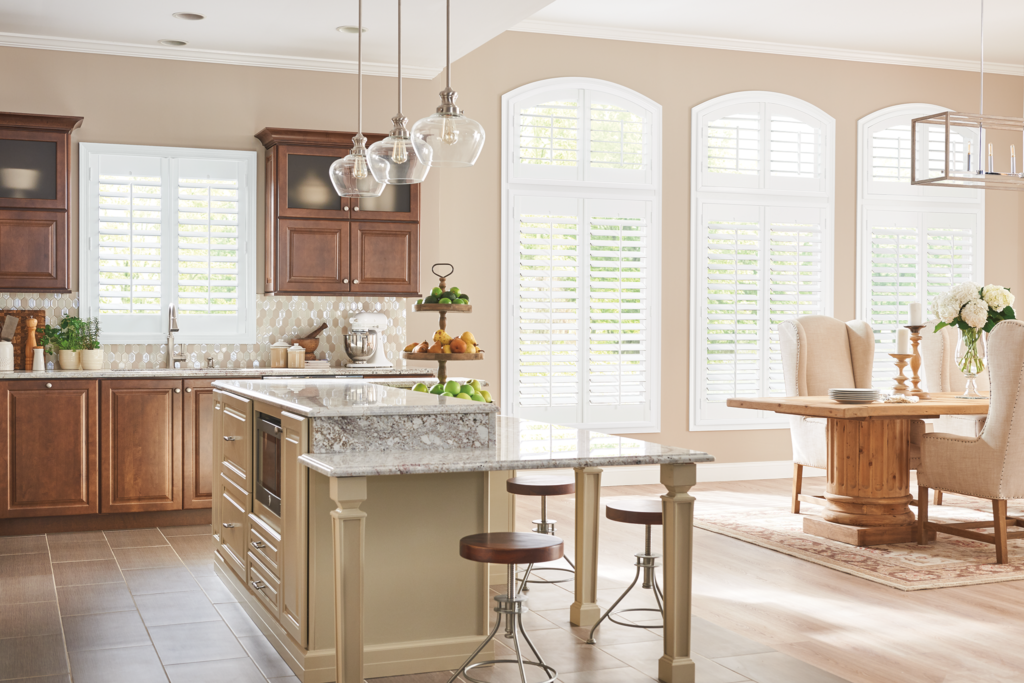 What Sets Us Apart?
Plantation shutters are truly a statement piece that will elevate the look and feel of your home immediately. McFeely Window Fashions can make sure your shutters not only look amazing but function seamlessly no matter your style or budget. Operating from Severna Park to Baltimore to Washington DC, our expert installers with over 35 years of experience offer a level of knowledge about shutter installation that larger national companies cannot provide.
As a small company, we can customize installation according to the window type offering mounting inside the window frame wherever possible to highlight your beautiful trim and create a seamless look. We look at each window in a client's home individually to decide how the shutter should be mounted to not disrupt the function of the window. Our goal is to be sure that whenever possible your windows can still be tilted in to clean.
Large windows? Custom plantation shutters? Our design consultants can best match the right plantation shutters for all types of windows.
Benefits of Plantation Shutters
A low-maintenance window treatment option, no cords, and easily cleanable
Guaranteed to withstand extreme heat and humidity
A timeless look, shutters match any décor coming in stain and paint choices of white, black, brown, and taupe
Shutters add to value of the home
Cordless functionality offers increased safety for small children and pets
Shutters are both functional and decorative
The wood and composite materials add insulation to a homeowner's windows
Tilting of the louvers adds privacy while still allowing light into your home
Extremely versatile, shutters can compliment modern, transitional, or traditional styles
Our Process for Installing Plantation Shutters
Here's what happens after you contact our office:
Based on the number of windows you have in your house and the sizes of your windows, we can give you an estimate of the cost.
Next, we'll schedule an appointment with one of our designers who will discuss your options and take measurements of your windows. This appointment can be scheduled as soon as the following day.
We will provide an estimate within 48 hours.
After the estimate is approved, we will schedule one of our professional installers to come to your home and take final measurements.
We require a 50% deposit before we place the order. Shutters will be installed in approximately three to four weeks.
Our plantation shutters have a lifetime-limited warranty.
Material Types: Wood vs. Composite Shutters
Composite
Engineered to be both beautiful and long-lasting. Composite shutters give the feel of wood with the durability to last a lifetime.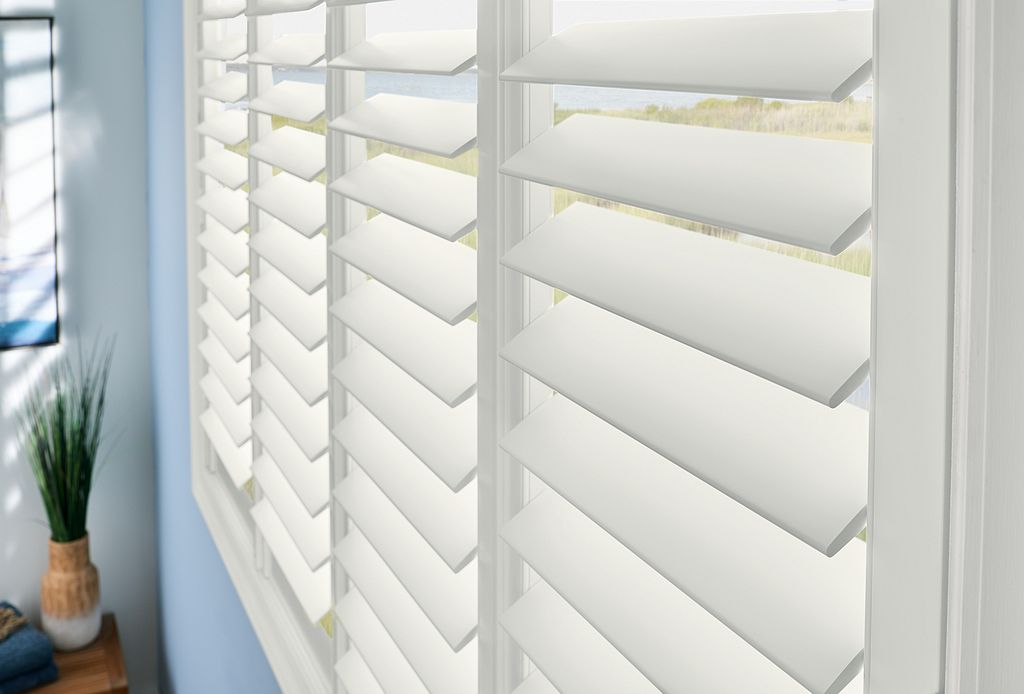 Benefits of Composite Material Shutters
Engineered to withstand moisture and flexing throughout various seasons and temperatures
Ideal for high traffic, high-use areas
Come in a wider range of sizes than wood shutters allowing for use on large windows and doors
Natural Wood Shutters
The natural elegance & warmth of real wood offers a timeless hand-crafted look to any window.
Benefits of Wood Shutters:
Adds to the value of your home
Come in a variety of stains and can be custom painted to match any unique trim color for coordination throughout your home
Bring the warmth of real natural handcrafted wood into your home
Plantation Shutter Unique Options
Composite and Wood Shutters offer options to suit every home and every client's unique needs
Standard Panel:
Perfect for windows of all sizes, a standard panel covers the full window and offers various options for opening your panels
Split Tilt:
A split tilt allows the top and bottom of your shutters to operate separately. Clients can let the light shine through into their home while still having the privacy they need.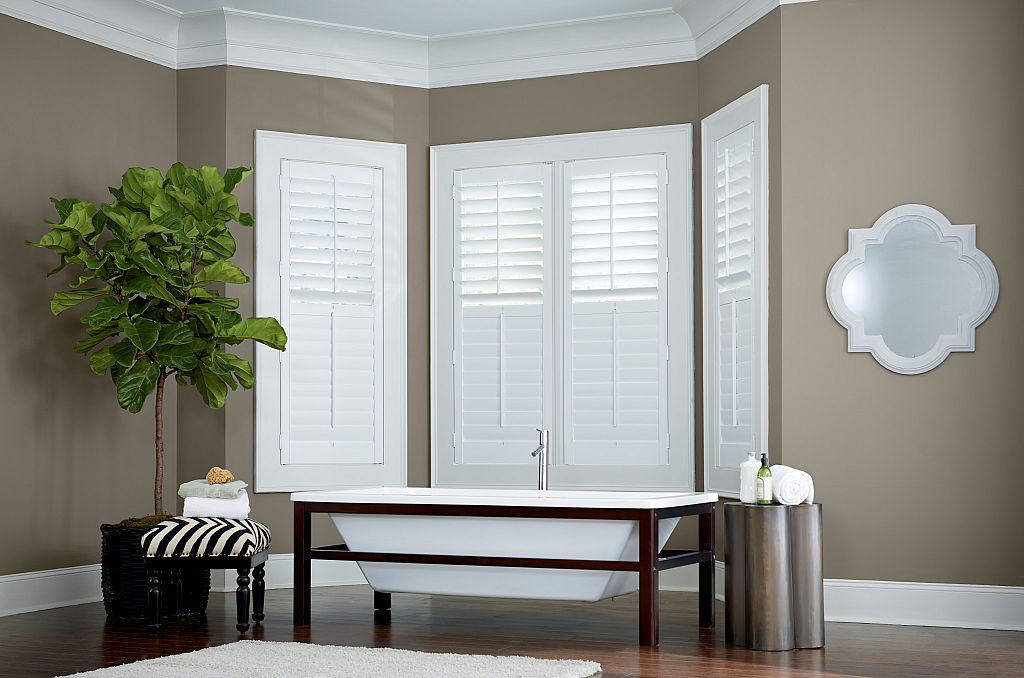 Arched Windows:
Uniquely designed arched shutters are made to perfectly fit the arched windows throughout your home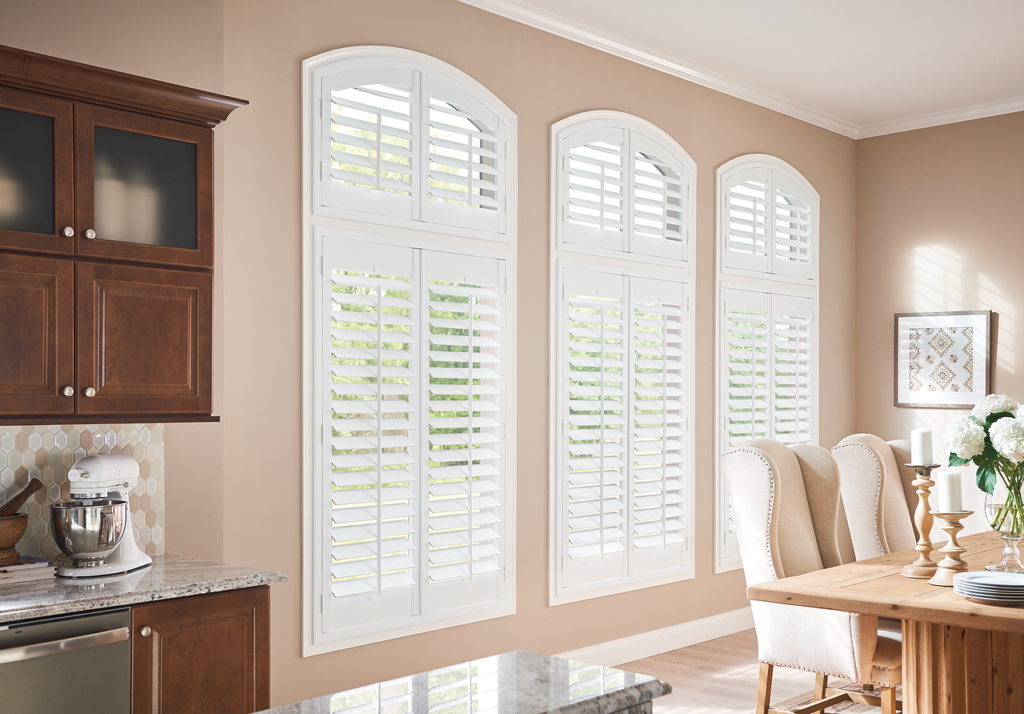 Bypass Track Shutters:
Not sure of the best option for your Sliding Glass Doors? Bypass Track Shutters offer the beauty of shutters with the functionality of a slider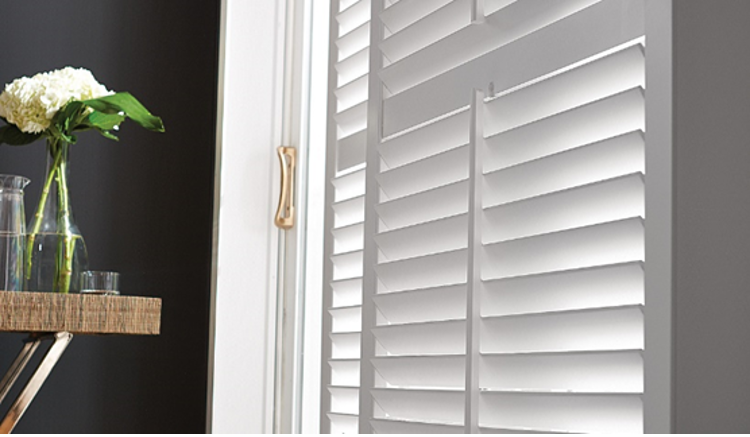 French Door Cut Outs:
Keep your door hardware in place while still adding the beauty of shutters to your French Doors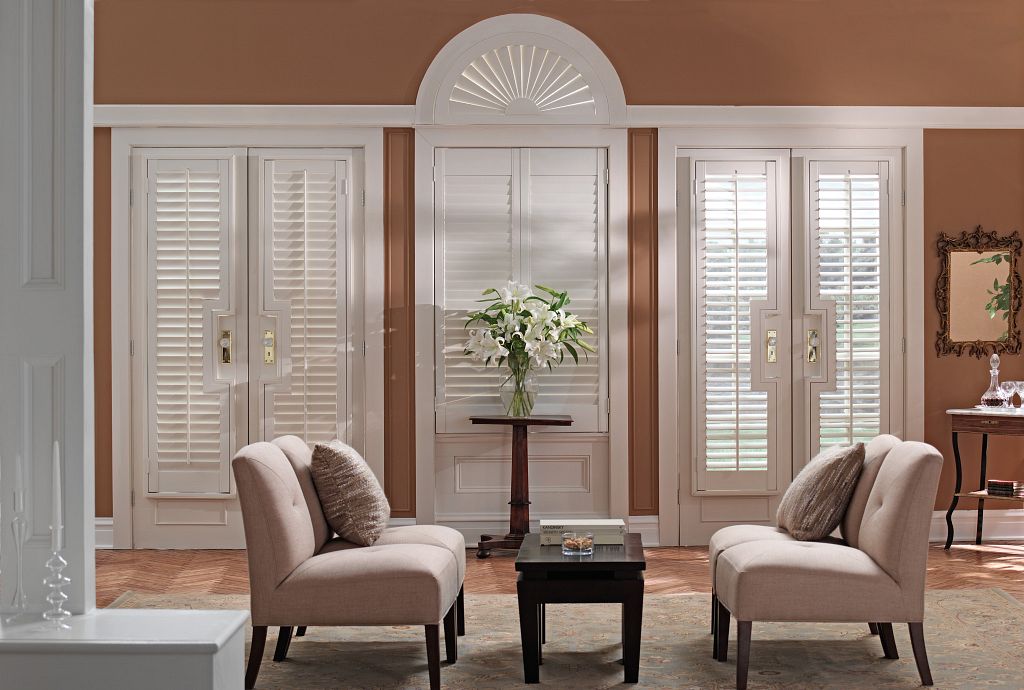 Café Shutters:
A beautiful option for allowing constant sunlight to shine through while still offering the privacy you need
Double Hung:
Two panels are hung in the same window operating separately. Allows for the flexibility of opening the top and the bottom apart from one another for endless light control options.

Call us today for your Plantation Shutters
Call McFeely Window Fashions today to set up your complimentary in-home consultation with one of our trained designers. No matter what challenges your home brings our designers have the knowledge and experience to tackle your project and give you a stunning final product. For over 20 years we have been the trusted resource for homeowners all over Anne Arundel County and throughout Maryland. Call us today or schedule your appointment online through our online contact form.
Commonly Asked Questions
Will I still be able to tilt in my windows to clean them?
Yes! Our local professional installers have 35 years of experience, take precise measurements, and have experienced techniques that will allow your windows to still be tilted.
Can you put shutters on sliding glass doors?
Absolutely! There are several ways that we can add shutters to your Sliding Glass Doors. Let us know the door dimensions and we are happy to help you find the perfect solution that is both functional and beautiful.
Is the difference between wood and composite shutters obvious when you look at them?
Not with the beautiful and well-made Graber Shutters! They are refined to make them appear like real wood. The composite shutters we sell are, less expensive, more durable, and beautiful!
What areas do we service?
We service the Annapolis/Baltimore area including Severna Park, Davidsonville, and Crownsville.