Introducing Panoview–Up to 84′ Wide
No Light Gaps | No Center Channels | 1 Motor
Crown Shade Company's Panoview Shades
McFeely Window Fashions has partnered with Crown Shade Company to furnish and install Panoview shades. These shades are designed to handle wide span applications where center light gap or stationary center light blocking channels are not desired. Panoview features an integrated vertical zipper system to join 2 or more fabric bands together to achieve widths up to 84 feet.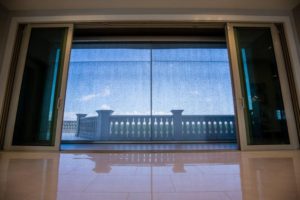 84" x 144" Panoview shade provides the ultimate sun and insect protection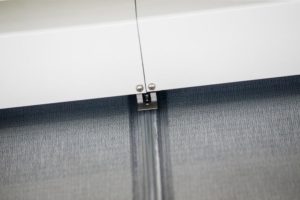 A close up of the coupling zipper bracket hidden in the head box
With a wide choice of fabrics available and aluminum parts, a unique disappearing hem bar on many models (as shown above), a discrete integration into your wall, and a smooth wrinkle-free fabric, the external roller shade forms an integral part of your structure. The smooth technology that our zip track offers allows for an even greater wind resistance and an extremely smooth operation. Couple this with our engineered hem bars and alignment and binding issues will never occur.