Frequently Asked Questions
Homeowners Ask About
Blinds, Shades, Shutters & Custom Draperies
Hunter Douglas Pirouette Shades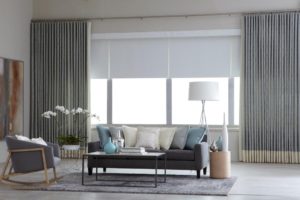 Ripplefold Drapery Panels with Blackout Roller Shades
McFeely Window Fashions answers commonly asked questions about
selecting window coverings for your home
1. What is the best way to start the process of selecting window coverings from you?
McFeely Window Fashions recommends you contact us to schedule a complimentary, in-home consultation (call 410.987.2300 or email beth@mcfeelywindowfashions.com). We'll get some preliminary information from you over the phone to ensure we come prepared for our first meeting. If you haven't purchased window treatments for a while, you'll probably be surprised by the variety of products available. We make it easy and stress free to find the perfect treatment for each window.
2. What happens at the in-home consultation?
We come to your home at a time convenient for you. We'll ask you questions about your vision, your lifestyle and how you use the room. We'll assess your needs for each window–think privacy, light control, adding color/texture or remote control needs.
Shutters, Shades and Blinds – We'll show you product samples and make recommendations. We'll match paint samples to your trim, show you louvre sizes and explain any other options available.
Custom Fabric Drapery, Valances, Cornices, Bedding and Cushions – We will bring fabric and trim samples so we can match the colors, textures and finishes that complement the design of the room. We have thousands of fabrics from which to choose.
Hard-to-Reach Windows, Challenging Shaped Windows – Two-story rooms with extra tall windows can benefit greatly from motorized window coverings. Motorization has revolutionized the window covering world—they are available in wireless and hard-wired applications. Did you know motorized shades can be solar powered? They are more affordable than ever, too.
After you have made your selections, we will measure your windows and email you our quote.
3. Are your prices competitive?
Yes. McFeely Window Fashions recognizes the need for both competitive pricing and exceptional value. When you look at the combination of quality, service, expertise and product selection we provide, we believe you'll think our prices are quite competitive.
4. Once I've decided everything, what's next?
Once you've made your final decisions and are ready to move forward, we require a 50% deposit. This can be paid by cash, check or credit card. At this point, we order all products and get the fabrication process started.
5. How soon will my window treatments come after I order them?
All of our products are custom made to your exact specifications. Some take longer than others to produce. Most shutters, blinds and shades will take approximately 4 weeks to receive once ordered. Custom drapery, valances, cornices and bedding take approximately 4-6 weeks to produce depending on the workload.
McFeely Window Fashions will keep you in the loop every step of the way so you know what to expect about the installation date.
We coordinate with you for a convenient time to schedule the installation. Upon completion, we will invoice you for the 50% balance due.
6. Why should I buy from you?
We are a woman-owned and operated business with 20 years of experience in fabricating, designing, and providing window treatments. We are here to help you make the perfect selections for your living space.
We love what we do. It would be our pleasure to work with you to create the perfect window coverings for your home.
8379 Jumpers Hole Road – Millersville, MD 21108
410.987.2300